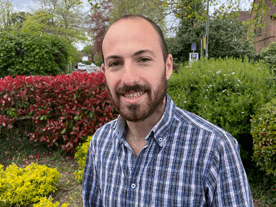 Daniele has a passion for football – he claims that he was kicking footballs before he could walk!
Daniele has a passion for football – he claims that he was kicking footballs before he could  walk! 
After gaining a science degree in his native Italy, he decided to travel abroad in order to join one of the main football academies in the West London and it was here he realised that he could turn his passion for football and others sports, into working profession and decided to dedicate five years of his life to gain a BSc in Osteopathy from Institute College of Osteopathic Medicine. He then did an additional  year to gain a MSc at Kingston University. Whilst doing all this he trained as qualification as a Massage therapist with the National School of Massage and gained a diploma in football medicine with FIFA.
Daniele has also done a number of post graduate course in Kinesio taping, nutrition and had trained in visceral techniques and cranio sacral approached for patients for whom standard osteopathy would not be appropriate.
And oh, did we mention that he likes football?
Really recommend Samar, I have had trouble with my lower back and she has definitely sorted me out! Pain free and niggle free! Thanks Samar!

Jo Teasdale


2/06/2021

I have had back pain intermittently for a few year due to occupational activities. Whenever I feel the pain Sarah is the first point of call. She has "fixed" me more times than I care to remember. the absolute best care and professionalism always and I leave in better shape than I arrived every time.

Gary Reading


6/11/2021

After a recommendation to bring my newborn to an osteopath we found Sarah. From 2 weeks old she treated our son for a few weeks and we have noticed a huge improvement in his head movements and general flexibility! We've felt very safe with her covid safe measures and also very welcome. I've already recommended her to two friends and won't hesitate to recommend her again and again!

Charlotte Barton


4/03/2021

Jess has done a fantastic job with my back.

Rob Edmunds


6/07/2021

Have been going to see Jess for 6 months for a number of problems which after session I feel a lot better and my aches and pains are eased also Jess explains this very well and makes you understand why she is doing a recreation. Would highly recommend.

Ben Rose


1/13/2021

Wonderful experience! Shamar is the best physio I have ever had in my life!! I strongly recommend this place!!

isabelle SAINTIVE


12/16/2020

Great osteopathy treatments. Samar is a brilliant practitioner - very knowledgeable and efficient, including for pregnancy-specific issues. Have recommended to several local friends and family members.

Laura D


12/03/2020

I have been going to Bucks Osteopathy for 6 months and am a regular patient of Jess'. She has been great. I have issues with my lower back from past injuries, however I went because of pain in my leg and the issue was diagnosed quickly and linked to my previous back injuries. Treatment has been hugely effective and I've also had support outside of appointments as well, with exercises and life style changes to aid recovery. I've recently had a shoulder injury which again has been diagnosed and treatment has already made a started rapidly easing symptoms. They are COVID safe, responsive and friendly and all treatment is holistic, Jess really takes time to get to know you, how you work and what will work for you. I couldn't recommend them, and Jess, more!

Samantha Horsman


1/06/2021

I have been receiving acupuncture treatments with Ivan while undergoing chemotherapy, for side effects such as sleep disturbances. Ivan has always been very considerate, well informed and intuitive to the underlying causes, and the acupuncture results have been immediate with lasting effects. Ivan has always been very professional in his treatments, making me feel very comfortable and at ease. I wouldn't hesitate to recommend an acupuncture treatment with him, the treatment won't cause disappointment.

Julie Willmott


4/22/2020

Excellent treatment and practise. Booked appointment same day. Very COVID safe. Very impressed with Jessica. Acupuncture treatment included in treatment. Highly recommend.

Sarahjane Collins


1/13/2021
We're registered with all the major healthcare providers.
Don't worry if you don't see your provider listed below, we may still be able to help so just get in touch with us on 01494 727859 (Amersham), 01753 362262 (Gerrards Cross) or 01494 416100 (Beaconsfield) and one of our team will be able to answer any questions you may have prior to booking.