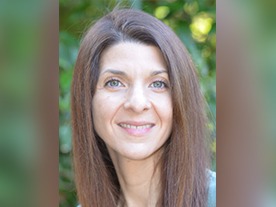 Specialises in obstetrics, treating women with pregnancy related issues both pre and post pregnancy
Rachael trained and worked as an APNT sports massage and injury therapist for a decade before graduating as an Osteopath, completing a Master's degree in Osteopathy in 2014 from the renowned University College of Osteopathy in London.
She went on to work in a sport rehabilitation clinic in Reading and then she gained extensive experience working with patients for spinal referrals through a busy NHS clinic.
She now splits her time working at McKinsey and Co in London and Bucks Osteopathy and Physio.
Her work at McKinsey means that she has seen a lot of patients with posture and work station related issues but she has years of experience working with runners and cyclists on sports related injuries as well as specialising in obstetrics, treating women with pregnancy related issues both pre and post pregnancy and offers a safe and gentle specialist treatment having completed extensive post graduate courses on visceral manipulation with the Barral Institute. This training has given her the skills to deal with a variety of Women's Health issues (please call us to see if your symptoms can be eased).
More generally, Rachael is passionate about working with people of all ages and backgrounds and is dedicated to help people recover from their pain so they can live a full and active life.
In her spare time Rachael enjoys swimming, climbing and keeping fit – at least when she can, as she is also the mother of a toddler!
I am very pleased to have found Jess, after 5 weeks of pain and suffering Jess has released the spasm in my lower back and glutes and I am able to work tomorrow. She is very knowledgeable and experienced and has no problem getting deep into my tense muscles when others were not able. I have tried every form of physical therapy and a great osteopath is a golden find. Thanks very much

Lee Thompson


6/28/2021

I went to see Sarah with chronic neck and upper back pain, I have only had 2 treatments and I have seen huge improvements. Sarah could see exactly what was wrong and new exactly how to treat me. I'm so pleased with her service. I Cannot recommend more.

Gemma Fee


6/17/2021

I have had back pain intermittently for a few year due to occupational activities. Whenever I feel the pain Sarah is the first point of call. She has "fixed" me more times than I care to remember. the absolute best care and professionalism always and I leave in better shape than I arrived every time.

Gary Reading


6/11/2021

Excellent treatment and practise. Booked appointment same day. Very COVID safe. Very impressed with Jessica. Acupuncture treatment included in treatment. Highly recommend.

Sarahjane Collins


1/13/2021

For a year in lockdown I had a progressively bad back leading to sciatica. In desperation I made an appointment with Sarah. I'm amazed that after just 3 sessions I'm pain free and the sciatica has disappeared. No more sleepless nights and bending down without pain is such a relief. My only regret is I didn't go sooner. Can't thank you enough Sarah. Life saver!!!!

Gill Wharton


2/16/2021

I have been going to Bucks Osteopathy for 6 months and am a regular patient of Jess'. She has been great. I have issues with my lower back from past injuries, however I went because of pain in my leg and the issue was diagnosed quickly and linked to my previous back injuries. Treatment has been hugely effective and I've also had support outside of appointments as well, with exercises and life style changes to aid recovery. I've recently had a shoulder injury which again has been diagnosed and treatment has already made a started rapidly easing symptoms. They are COVID safe, responsive and friendly and all treatment is holistic, Jess really takes time to get to know you, how you work and what will work for you. I couldn't recommend them, and Jess, more!

Samantha Horsman


1/06/2021

Really recommend Samar, I have had trouble with my lower back and she has definitely sorted me out! Pain free and niggle free! Thanks Samar!

Jo Teasdale


2/06/2021

Wonderful experience! Shamar is the best physio I have ever had in my life!! I strongly recommend this place!!

isabelle SAINTIVE


12/16/2020

After a recommendation to bring my newborn to an osteopath we found Sarah. From 2 weeks old she treated our son for a few weeks and we have noticed a huge improvement in his head movements and general flexibility! We've felt very safe with her covid safe measures and also very welcome. I've already recommended her to two friends and won't hesitate to recommend her again and again!

Charlotte Barton


4/03/2021

Have been going to see Jess for 6 months for a number of problems which after session I feel a lot better and my aches and pains are eased also Jess explains this very well and makes you understand why she is doing a recreation. Would highly recommend.

Ben Rose


1/13/2021
We're registered with all the major healthcare providers.
Don't worry if you don't see your provider listed below, we may still be able to help so just get in touch with us on 01494 727859 (Amersham), 01753 362262 (Gerrards Cross) or 01494 416100 (Beaconsfield) and one of our team will be able to answer any questions you may have prior to booking.