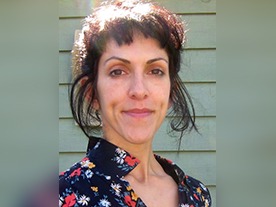 Uses a variety techniques including Medical Acupuncture, Kynesiotaping and Yoga therapy
Laila is a registered Osteopath and Naturopath, qualifying with commendation from the British College of Osteopathic Medicine. Laila has a professional, calm, and caring approach to treatment.
She uses a variety techniques including Medical Acupuncture, Kynesiotaping and Yoga therapy basing them on more than ten years experience in the health and fitness industry.
In addition Laila has also taught yoga for the past ten years, working with a wide variety of people and is currently running specialized yoga classes for women's health and rehabilitation in London. Laila is also available for one to one yoga sessions in Amersham, which could fit within the treatment protocol.
Laila is continuously expanding her knowledge and repertoire and has recently completed a three part series of seminars based around understanding and treating the autonomic nervous system.
In her spare time Laila enjoys being active and regularly attends dance sessions including Forro (Brazilian dance), Salsa and Contemporary improvisation. She is also an avid cyclist and gardener.
Great osteopathy treatments. Samar is a brilliant practitioner - very knowledgeable and efficient, including for pregnancy-specific issues. Have recommended to several local friends and family members.

Laura D


12/03/2020

A few sessions and I'm cured!!! Like many others I gave up on the NHS waiting list and came here for immediate treatment. I was crippled with pain and couldn't work. I highly recommend Rebecca to all with back problems!!

Mike Wilkinson


3/12/2021

Have been going to see Jess for 6 months for a number of problems which after session I feel a lot better and my aches and pains are eased also Jess explains this very well and makes you understand why she is doing a recreation. Would highly recommend.

Ben Rose


1/13/2021

Excellent treatment and practise. Booked appointment same day. Very COVID safe. Very impressed with Jessica. Acupuncture treatment included in treatment. Highly recommend.

Sarahjane Collins


1/13/2021

I have been receiving acupuncture treatments with Ivan while undergoing chemotherapy, for side effects such as sleep disturbances. Ivan has always been very considerate, well informed and intuitive to the underlying causes, and the acupuncture results have been immediate with lasting effects. Ivan has always been very professional in his treatments, making me feel very comfortable and at ease. I wouldn't hesitate to recommend an acupuncture treatment with him, the treatment won't cause disappointment.

Julie Willmott


4/22/2020

Wonderful experience! Shamar is the best physio I have ever had in my life!! I strongly recommend this place!!

isabelle SAINTIVE


12/16/2020

I went to see Sarah with chronic neck and upper back pain, I have only had 2 treatments and I have seen huge improvements. Sarah could see exactly what was wrong and new exactly how to treat me. I'm so pleased with her service. I Cannot recommend more.

Gemma Fee


6/17/2021

Really recommend Samar, I have had trouble with my lower back and she has definitely sorted me out! Pain free and niggle free! Thanks Samar!

Jo Teasdale


2/06/2021

I have been going to Bucks Osteopathy for 6 months and am a regular patient of Jess'. She has been great. I have issues with my lower back from past injuries, however I went because of pain in my leg and the issue was diagnosed quickly and linked to my previous back injuries. Treatment has been hugely effective and I've also had support outside of appointments as well, with exercises and life style changes to aid recovery. I've recently had a shoulder injury which again has been diagnosed and treatment has already made a started rapidly easing symptoms. They are COVID safe, responsive and friendly and all treatment is holistic, Jess really takes time to get to know you, how you work and what will work for you. I couldn't recommend them, and Jess, more!

Samantha Horsman


1/06/2021

After a recommendation to bring my newborn to an osteopath we found Sarah. From 2 weeks old she treated our son for a few weeks and we have noticed a huge improvement in his head movements and general flexibility! We've felt very safe with her covid safe measures and also very welcome. I've already recommended her to two friends and won't hesitate to recommend her again and again!

Charlotte Barton


4/03/2021
We're registered with all the major healthcare providers.
Don't worry if you don't see your provider listed below, we may still be able to help so just get in touch with us on 01494 727859 (Amersham), 01753 362262 (Gerrards Cross) or 01494 416100 (Beaconsfield) and one of our team will be able to answer any questions you may have prior to booking.