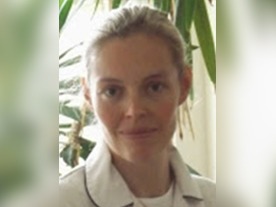 Sarah specialises in the treatment of disc injury and nerve problems leading to either leg (sciatica) or arm pain.
I have been practising Osteopathy for 16 years and are registered with the General Osteopathic Council as well as a member of the Institute of Osteopathy.
The techniques I use are based on current medical research gained from regularly updating my learning by attending post graduate courses, regional osteopathic meetings and study groups (I have completed 15 days of courses in the 2018 alone!).
I aim to provide a professional service within a safe and caring environment and keep the patient at the centre of what I do. I want people to know that I have their best interests at heart and aim to treat everyone I see with patience, understanding and empathy.
I specialise in the treatment of disc injury and nerve problems leading to either leg (sciatica) or arm pain. The practice uses spinal decompression therapy – a non-surgical traction based treatment that has been shown to be 86% effective in research.
This is normally combined with specialist techniques designed to release restrictions in nerves either down the leg or arm.
A variety of treatments are used according to the needs of the patient including:
Pilates based exercise, Theraband, Swiss Balls
Postural, lifestyle & nutritional advice
Acupuncture
Mobilisations and joint manipulations
Soft tissue massage and stretching
Gentle fascial (connective tissue) techniques
Ultra sound, TENS machines
Variety of taping methods – myofascial, sports, McConnell
I have been going to Bucks Osteopathy for 6 months and am a regular patient of Jess'. She has been great. I have issues with my lower back from past injuries, however I went because of pain in my leg and the issue was diagnosed quickly and linked to my previous back injuries. Treatment has been hugely effective and I've also had support outside of appointments as well, with exercises and life style changes to aid recovery. I've recently had a shoulder injury which again has been diagnosed and treatment has already made a started rapidly easing symptoms. They are COVID safe, responsive and friendly and all treatment is holistic, Jess really takes time to get to know you, how you work and what will work for you. I couldn't recommend them, and Jess, more!

Samantha Horsman


1/06/2021

I am very pleased to have found Jess, after 5 weeks of pain and suffering Jess has released the spasm in my lower back and glutes and I am able to work tomorrow. She is very knowledgeable and experienced and has no problem getting deep into my tense muscles when others were not able. I have tried every form of physical therapy and a great osteopath is a golden find. Thanks very much

Lee Thompson


6/28/2021

I went to see Sarah with chronic neck and upper back pain, I have only had 2 treatments and I have seen huge improvements. Sarah could see exactly what was wrong and new exactly how to treat me. I'm so pleased with her service. I Cannot recommend more.

Gemma Fee


6/17/2021

I have had back pain intermittently for a few year due to occupational activities. Whenever I feel the pain Sarah is the first point of call. She has "fixed" me more times than I care to remember. the absolute best care and professionalism always and I leave in better shape than I arrived every time.

Gary Reading


6/11/2021

Jess has done a fantastic job with my back.

Rob Edmunds


6/07/2021

I have been receiving acupuncture treatments with Ivan while undergoing chemotherapy, for side effects such as sleep disturbances. Ivan has always been very considerate, well informed and intuitive to the underlying causes, and the acupuncture results have been immediate with lasting effects. Ivan has always been very professional in his treatments, making me feel very comfortable and at ease. I wouldn't hesitate to recommend an acupuncture treatment with him, the treatment won't cause disappointment.

Julie Willmott


4/22/2020

Excellent treatment and practise. Booked appointment same day. Very COVID safe. Very impressed with Jessica. Acupuncture treatment included in treatment. Highly recommend.

Sarahjane Collins


1/13/2021

Have been going to see Jess for 6 months for a number of problems which after session I feel a lot better and my aches and pains are eased also Jess explains this very well and makes you understand why she is doing a recreation. Would highly recommend.

Ben Rose


1/13/2021

A few sessions and I'm cured!!! Like many others I gave up on the NHS waiting list and came here for immediate treatment. I was crippled with pain and couldn't work. I highly recommend Rebecca to all with back problems!!

Mike Wilkinson


3/12/2021

After a recommendation to bring my newborn to an osteopath we found Sarah. From 2 weeks old she treated our son for a few weeks and we have noticed a huge improvement in his head movements and general flexibility! We've felt very safe with her covid safe measures and also very welcome. I've already recommended her to two friends and won't hesitate to recommend her again and again!

Charlotte Barton


4/03/2021
We're registered with all the major healthcare providers.
Don't worry if you don't see your provider listed below, we may still be able to help so just get in touch with us on 01494 727859 (Amersham), 01753 362262 (Gerrards Cross) or 01494 416100 (Beaconsfield) and one of our team will be able to answer any questions you may have prior to booking.