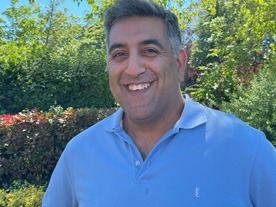 Vish has been practicing as an osteopath for nearly 20 years having graduated at the prestigious British School of Osteopathy.
Vish has been practicing as an osteopath for nearly 20 years having graduated at the prestigious British School of Osteopathy. Since then he has gained post graduate qualification in acupuncture/dry needling with the British medical Acupuncture Society (BMAS) and post graduate qualifications in cranial osteopathy with the Sutherland Cranial College as well as courses in Sports Medicine and Injuries studied at the FA centres at Lilleshal and Bisham Abbey.
He has worked with many very well respected medical consultants and surgeons at the very top of their profession to help with rehabilitation and in particular pre and post surgical rehabilitation and in some cases mitigating an operations altogether.
Vish has always been interested in sport and a few years after he graduated he started treating international footballers and progressed to working with top London clubs. He has also treated tennis and badminton players at local clubs and youth national tennis level. Another form of exercise injury that has interested Vish are those incurred in weight training and bodybuilding and he has been fortunate enough to work with competitors at Mr Universe level. Vish also helped some of British Olympic Boxing team in their preparations for Tokyo 2020 at the Stratford Olympic site before the lockdown struck and has also helped a number of boxers at national level.
A keen skier and scuba diver Vish is also interested in keeping fit although by his own admission, with his busy schedule at the moment, this is currently limited to helping coach at his kids tennis club!
I have been going to Bucks Osteopathy for 6 months and am a regular patient of Jess'. She has been great. I have issues with my lower back from past injuries, however I went because of pain in my leg and the issue was diagnosed quickly and linked to my previous back injuries. Treatment has been hugely effective and I've also had support outside of appointments as well, with exercises and life style changes to aid recovery. I've recently had a shoulder injury which again has been diagnosed and treatment has already made a started rapidly easing symptoms. They are COVID safe, responsive and friendly and all treatment is holistic, Jess really takes time to get to know you, how you work and what will work for you. I couldn't recommend them, and Jess, more!

Samantha Horsman


January 6, 2021

After a recommendation to bring my newborn to an osteopath we found Sarah. From 2 weeks old she treated our son for a few weeks and we have noticed a huge improvement in his head movements and general flexibility! We've felt very safe with her covid safe measures and also very welcome. I've already recommended her to two friends and won't hesitate to recommend her again and again!

Charlotte Barton


April 3, 2021

I have been receiving acupuncture treatments with Ivan while undergoing chemotherapy, for side effects such as sleep disturbances. Ivan has always been very considerate, well informed and intuitive to the underlying causes, and the acupuncture results have been immediate with lasting effects. Ivan has always been very professional in his treatments, making me feel very comfortable and at ease. I wouldn't hesitate to recommend an acupuncture treatment with him, the treatment won't cause disappointment.

Julie Willmott


April 22, 2020

For a year in lockdown I had a progressively bad back leading to sciatica. In desperation I made an appointment with Sarah. I'm amazed that after just 3 sessions I'm pain free and the sciatica has disappeared. No more sleepless nights and bending down without pain is such a relief. My only regret is I didn't go sooner. Can't thank you enough Sarah. Life saver!!!!

Gill Wharton


February 16, 2021
We're registered with all the major healthcare providers.
Don't worry if you don't see your provider listed below, we may still be able to help so just get in touch with us on 01494 727859 (Amersham), 01753 362262 (Gerrards Cross) or 01494 416100 (Beaconsfield) and one of our team will be able to answer any questions you may have prior to booking.